---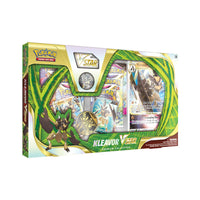 Pokémon Kleavor VSTAR Premium Collection
The Pokémon Company
Sharpen Your Game with Kleavor VSTAR!
Kleavor VSTAR slashes and crashes its way out of the wilderness and into your deck with both arms swinging! This powerful Pokémon VSTAR can do more damage for each Pokémon in your discard pile, so your opponent should tread lightly. Both Kleavor VSTAR and Kleavor V are here as playable foil promo cards, along with an oversize card, glossy enamel pin, shimmering coin, and booster packs with more cards to complete your strategy. Watch out—Kleavor VSTAR is ready to rampage!
The Pokémon TCG: Kleavor VSTAR Premium Collection includes:
1 etched foil promo card featuring Kleavor V
1 etched foil promo card featuring Kleavor VSTAR
1 oversize foil card featuring Kleavor VSTAR
6 Pokémon TCG booster packs

Each booster pack contains 10 cards and either 1 basic Energy or 1 VSTAR marker

1 collector's pin featuring Kleavor
1 metallic coin featuring Kleavor
1 acrylic VSTAR marker
A code card for Pokémon TCG Live
In case those two cards aren't enough, this Premium Collection also includes an etched oversize card of Lucario VSTAR that will look great on display along with the included collector's pin, metallic coin, and acrylic VSTAR marker. You'll also get six Pokémon TCG booster packs to swell your ranks. It's a terrific collection for Lucario fans or anyone looking to dole out some damage in the Pokémon TCG.
The Pokémon TCG: Lucario VSTAR Premium Collection includes:
1 etched promo card featuring Lucario V

1 etched promo card featuring Lucario VSTAR

1 etched oversize card featuring Lucario VSTAR

1 colorful collector's pin featuring Lucario

1 metallic coin featuring Lucario

1 acrylic VSTAR marker

6 Pokémon TCG booster packs

A code card usable in either the Pokémon TCG Online or Pokémon TCG Live