---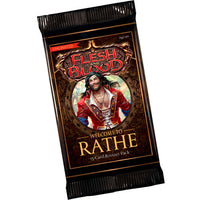 Flesh and Blood - Welcome to Rathe Unlimited Booster Pack
Legend Story Studios
After centuries of uneasy peace, the land of Rathe balances on the brink of war once again. Savage beasts emerge from the primordial jungle, clashing with noble warriors in increasingly violent skirmishes. A forgotten realm finds its ancient barriers eroding, exposing it to the greed of others, while a mystical land is faced with the history it once tried to bury, threatening to expose the secrets of their ancestors.
In a world plagued by conflict, you must fight for the chance to determine your fate. Will you succumb to the machinations of others, or will you choose your own path? Pick up your sword and prepare for battle; for no matter where you run, war will find you.
Welcome to the world of Flesh and Blood, a hero-centric fantasy trading card game that features classic fantasy classes with unique playstyles. Flesh and Blood introduces game changing innovation to the Trading Card Game industry, with the patent pending "pitch" resource system, that has players engaged in cutthroat combat every turn of every game, 100% of the time! The Welcome to Rathe booster set contains 225 cards, and is designed to support exceptional booster draft and sealed deck play, in addition to being the primary way of acquiring cards for constructed play.
Difference Between Unlimited Boosters and First Printing Boosters:

• Unlimited Edition packaging has a red UNLIMITED flag on boosters and displays
• Unlimited Edition is black border and contains exactly the same cards as the original printing of these products, in the same configuration. Unlimited Edition supports booster draft and sealed deck play.
• Unlimited Edition cards have improvements to colour, templating, and syntax since their original printing, such as "red" colour strips, rarity badges, and adding italic reminder text to some cards.
• Cards that are Cold Foils in the first printing will instead be Rainbow Foils in the Unlimited printings

Contents:
1 Sealed Booster Pack
  ‣ 15 Randomized Cards
Age: 16+