---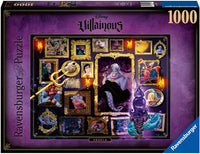 Disney's Villainous Ursula 1000-Piece Puzzle
Ravensburger
Piece together this 1000-piece puzzle featuring Ursula, the vengeful villain from Disney's The Little Mermaid. Assemble the puzzle to reveal the sea witch surrounded by her mischievous henchmen, Flotsam and Jetsam, as well as Ariel, King Triton, Prince Eric and many more. All Villainous puzzles are based on the award winning game series "Villainous" by Ravensburger. Enjoy puzzling the magnificent realms of your favorite Disney Villains. Watch as the wicked ways, sinister spells, and devious deeds unfold as each piece is connected. Collect all 12 Disney Villainous puzzles!

Bestselling puzzle brand worldwide - With over 1 billion puzzles sold, Ravensburger is the bestselling puzzle brand worldwide.

What you get – 1000 piece Ravensburger jigsaw puzzles for adults are crafted with premium quality, in terms of both content and material, and have a completed size of 27" x 20".

Anti-Glare surface - Ravensburger puzzles use an exclusively developed, extra-thick cardboard combined with our fine, linen structured paper to create a glare-free puzzle image and give you the best experience possible.

Every piece is unique – None of the frustrations you find with other puzzle brands. With Ravensburger, every individual piece has a completely unique shape.

Makes a great gift - Puzzles are a fun activity to do alone or in a group, and make a great gift for all ages at birthdays and holidays.