---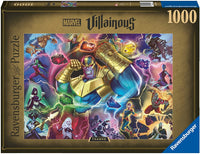 Disney's Villainous Thanos 1000-Piece Puzzle
Ravensburger
Titan God, Thanos, travels the universe, searching for the limitless power held within the Infinity Stones. He wants the power of the stones to help him control the universe, changing it forever. The power and strength of Thanos is perfectly captured in this colorful design, making it a "must have" product for any Marvel Avengers fans! Escape from daily pressures and create some mindful moments as you assemble this dramatic design. Our 1000 piece jigsaws are crafted with premium quality and measure 70 x 50cm when complete. Great for Adults and ideal puzzles for Children 12 years old and up.

Bestselling puzzle brand worldwide - With over 1 billion puzzles sold, Ravensburger is the best selling puzzle brand worldwide.

What you get – 1000 piece Ravensburger jigsaw puzzles for adults are crafted with premium quality, in terms of both content and material, and have a completed size of 27" x 20".

Anti-Glare surface - Ravensburger puzzles use an exclusively developed, extra-thick cardboard combined with our fine, linen structured paper to create a glare-free puzzle image and give you the best experience possible.

Every piece is unique – None of the frustrations you find with other puzzle brands. With Ravensburger, every individual piece has a completely unique shape.

Makes a great gift - Puzzles are a fun activity to do alone or in a group, and make a great gift for all ages at birthdays and holidays.