---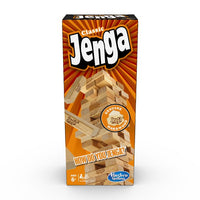 Classic Jenga
Hasbro
Classic Jenga Game with Genuine Hardwood Blocks, Stacking Tower Game for 1 or More Players, A Jenga Brand Game for Kids Ages 6 and Up
THE ORIGINAL WOOD BLOCK STACKING GAME: It's the classic Jenga game that families have loved for generations. Slide out blocks one by one, and place them on top of the stack. But don't let the tower fall
AVOID A TUMBLING TOWER: Every move counts in this strategy game. Do you start at the bottom, top, or middle? Stack and balance the blocks to keep the wood tower from crashing
GAME FOR 1 OR MORE PLAYERS: No friends around? No problem! Play Classic Jenga solo! Or enjoy this fun and easy indoor game for kids with a group. It's a fun homeschool break activity
GENUINE HARDWOOD BLOCKS: This Hasbro game includes 54 precision-crafted hardwood blocks, along with an easy-to-use stacking sleeve to help build the perfect tower
EXCITING PARTY GAME: Inject fun into any party or family game night by breaking out the Jenga game! This classic block stacking game is easy to learn and makes a great gift for kids ages 6 and up
It's the block-balancing, tower-tumbling classic Jenga game! How will you stack up against the laws of gravity? To begin, stack the genuine hardwood blocks into a sturdy tower, using the handy stacking sleeve. Then slide out the blocks one by one and place them on top of the stack. Is your hand steady enough to slide out the last block before the tower collapses? Quick and easy to set up, playing the Jenga game is a fun thing to do while staying at home. It's also a favorite game for parties and game night. Play it solo, with friends, or in teams! How do you Jenga?
Jenga is a registered trademark of Pokonobe Associates.
How Do You Jenga? Is a trademark owned by Pokonobe Associates
Hasbro Gaming and all related trademarks and logos are trademarks of Hasbro, Inc.
Includes 54 hardwood Jenga blocks, stacking sleeve with instructions.
Ages 6 and up
For 1 or more players.