---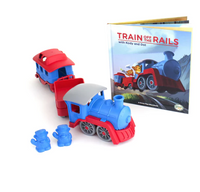 Green Toy Train & Storybook Set
Green Toys
This storybook gift set is sure to spark imaginative play! Children will see their new Train toy embark on exciting adventures throughout the pages of the book, Train Off the Rails with Kody and Dot, and will love recreating the action with their own Train toy after storytime is over. Includes 1 Train toy and 1 32-page hardcover storybook. Conveniently packaged, ready to gift!

Kody and Dot drive a delivery train around the same loop every single day. Then one day, their train jumps the tracks, and they discover a whole new way of looking at their jobs! Join the two bears as they discover just how big their world is.

The brightly-colored 3-car Train includes a steam engine, an open wagon perfect for hauling all kinds of sustainable cargo, and a caboose with a removable roof. All cars link together to form a long train or easily unhook for stand-alone play. Two Conductor Bears are included, encouraging little engineers to explore new worlds.

"Train off the Rails is a storybook designed to accompany a toy train set, but the book is anything but an afterthought, standing on its own as a wry statement about exceeding limitations." – BlueInk, starred review.

"…preschoolers who love picture books about vehicles should be thrilled with all the different types featured here." – Kirkus.
Manufactured in the USA
Made from 100% recycled plastic
No BPA, phthalates, or PVC
Meets FDA food contact standards
Easy to clean and dishwasher safe
Packaged with recycled and recyclable materials and printed with soy inks