---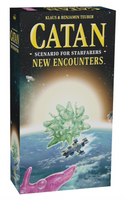 CATAN Starfarers New Encounters Scenario Expansion
Catan GmbH
THIS IS A SCENARIO EXPANSION FOR CATAN STARFARERS: This is NOT a complete game. You need a copy of CATAN Starfarers to play this scenario.

EXPLORE THE GALAXY IN 3 LINKED SCENARIOS: Get ready Starfarers, the Galactic Council has three new urgent tasks for you to prove your skills and bravery in CATAN – Starfarers – New Encounters.

ADD VARIABILITY TO YOUR CATAN STRATEGY GAMES: New Encounters adds three new exciting scenarios with unique rules to CATAN - Starfarers for an even more epic race to explore the galaxy. Explore the amoebas, defeat the elusive pirate Hog Kahm, and find the long forgotten lost people for your chance to join the Council.

FUN FAMILY GAMES FOR GAME NIGHT: An international favorite, CATAN has been called the "Perfect Social Game". Check out our entire collection of CATAN board games for adults and kids to enjoy on family game night. Enjoy hours of fast-paced, interactive fun!

NUMBER OF PLAYERS AND AVERAGE PLAYTIME: This fun family game is designed for 3 to 4 players and is suitable for ages 14 and older. Average playtime is approximately 120 to 150 minutes.